Corona Virus. It's the one thing that characterized Nairobi City Stars Super League season in 2020. 
The novel pandemic leapt out the woods into our lives and before we could understand it, we were operating in a lockdown.
For a few months we all had to stay indoors, quarantined, and when we ventured outside under strict curfews, we had to be masked.
Despite having a stellar season, Nairobi City Stars was not spared by the virus, as, from mid-March, all footballing activities in the country froze.
It their fourth stab at promotion, Simba wa Nairobi had done all they needed to do and 28 rounds into a 38-game season, the team had scooped 64 points and carried a ten-point buffer over second placed Bidco United.
With a clear view of the premier league, the team look forward to that one game they would win to be declared promoted, and the 2019/20 super league champions.
But that day never came. Neither did the coronation.
For when the games finally resumed in November, some eight months later, there was no looking back. It was picking up from where the ball had stopped.
The year began with the chase for promotion and ended with five games into the top flight league.
Though curtailed near the last mile, City Stars season's objective was duly met in spite of the pandemic.
To sum Simba wa Nairobi's year, here's a blow by blow account of the 2020 year gone.
January
7th – Peter Opiyo, Ezekiel Odera, Azizi Okaka, Tedian Esilaba and keeper Jacob Osano join the City Stars stable
11th – Simba wa Nairobi starts second leg on a high with an unprecedented 1-0 win away to Shabana in Kisii. Stopper Salim Shitu Abdalla scored the lone goal as Jimmy Bageya was named MVP. Azizi Okaka made his debut for City Stars in the second half.
18th – Goals on either half by Oliver Maloba (named MVP) and the returning Ezekiel Odera handed Nairobi City Stars a 2-0 win over visiting Vihiga Bullets in a round 21 National Super League (NSL) tie played at Camp Toyoyo, Jericho
26th – A lone Davis Agesa lone striker, off Oliver Maloba's cross, topped up with a late Levis Lovae Opiyo penalty save, confirmed a 1-0 over hosts Vihiga United in Mumias to end the month on a high. Levis was named MVP as his sibling Peter Opiyo made his debut.
February
2nd – City Stars wipe out Eric Gichimu's first half goal to see off title challengers Bidco United 2-1 at Camp Toyoyo to complete a season double. Anthony Muki Kimani and Jimmy Bageya scored the goals. Agesa was named MVP
8th – A four game winning streak brought to a rude end after a shock 3-1 loss to Coast Stima at Camp Toyoyo. Rogers Okumu, Erick Ombija and Kassim Mohammed scored for the visitors as Shitu found a consolation for the hosts. Anthony Kimani was named MVP
29th – Two penalties by Peter Opiyo and Ezekiel Odera cancelled out another penalty by David Oluoch for City Stars to outwit Kenya Police 2-1 at Toyoyo to complete a season double. Opiyo was named MVP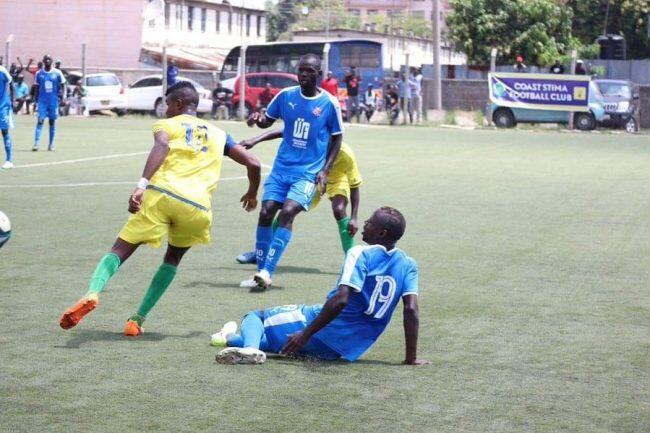 March
8th – City Stars starts the month with a 2-1 win over AP Bomet in Kericho. Odera forced an own goal and scored a beauty in the early minutes of the game. Keeper Jacob Osano made his debut for suspended Levis Opiyo. For a second straight game Peter Opiyo was named MVP
14th – Lead striker Ebrima Sanneh comes of the bench to power home a fine late header for City Stars to take down a tough Nairobi Stima 1-0 at Camp Toyoyo in a round 28 clash. It confirmed yet another season double as Simba wa Nairobi hit the 64-point mark to shoot ten points clear. Shitu was named MVP.
The game was played behind closed doors following the announcement by Government of the first Corona Virus victim in the country the day before. The game turned out to be the last of the season as all sporting activities were suspended after that weekend
24th – Due to Corona Virus lockdown, players put on 'work from home' programme to the end of April
April – August
With no football in the foreseeable future due to Corona virus, City Stars players and staff recoiled to ambassadorship and caregiving roles at the Jonathan Jackson Foundation (JFF) to partake in regular community service.
Distribution of food hampers to the vulnerable families in Kibera and Deep Sea in Parklands (April, May and June) and in #JengaJirani initiatives in July and August kept the players and team officials busy.
In the midst of all the activities, it was confirmed, on 1st May, that Nairobi City Stars – and Bidco United – were promoted once the Federation realized the Corona Virus pandemic was here to stay.
July
Keeper Levis Opiyo, defenders Kevin Okumu and Tedian Esilaba, midfielders David Gateri, Eric Ochieng and keeper Ronny Kagunzi all leave the club at expiry of their contracts.
August
7th – Teenage midfielder Timothy Babu Ouma from Laiser Hill Academy joined Simba wa Nairobi on a long term deal becoming the first off season signing. At the time of signing he was the reigning Chapa Dimba na Safaricom Rift Valley MVP.
19th – Offensive midfielder Rowland Babu Makati, 19, joined Nairobi City Stars on a long term deal from Vapor Sports, a club that signed him from local club Escalators of Gatina.
September
1st – Defensive midfielder Ronney Kola Oyaro, 20, made a big leap from lower tier side Kenya School of Government (KSG) to sign a long term deal at City Stars.
3rd – Teenage keeper Elvis Ochieng Ochoro, 18, who spent his formative football years at Makadara Junior League, joined from regional league side Hakati Sportiff.
4th – Striker Erick Ombija, 25, joined Nairobi City Stars from champions Gor Mahia on a two-year deal to becoming the fifth arrival in the current transfer window
7th – Defensive mid Sven Yidah arrives from Kariobangi Sharks on a two-year deal
28th – After close to seven months of no football, team starts low key training at Hope Centre and Camp Toyoyo
October
8th – Head coach Sanjin arrives back in the country accompanied by assistant coach Nihad Nalbantic to prepare for the Premier League season. Team shifts training to Ligi Ndogo
15th – Dead ball specialist Noah Abich officially announces his retirement as a footballer. He joins City Stars bench as an apprentice assistant coach.
24th – Ligi Ndogo offers first preseason test at their backyard. They fall fall 4-0 from goals from Ebrima Sanneh, a brace from Davis Agesa and Charles Otieno
31st – First major preseason friendly against Kariobangi Sharks ends even at 1-1 at Utalii grounds. New signing Rogers Okumu scores first before Peter Lwasa equalized. Striker Ebrima Sanneh suffered a long term injury in the game.
November
2nd – Left back Herit Mungai completes his arrival to City Stars — the last signing – after impressing in the Sharks friendly. His last station was Coast Stima
7th – Hosts Bidco rallied to hold City Stars at Thika Stadium in a  preseason friendly. Anthony Muki Kimani's first half penalty was cancelled out by Anthony Gathu's long range shot in the next half
11th – Mixed results for City Stars at PSC as the main team goes down 1-0 to KCB, while the second team romps 6-0 past Kibera Select Interbase. Eric Ombija missed a penalty but still came out with a brace as Ezekiel Odera registered a treble.
13th – New signings Ronny Kola and Rowland Makati head to NSL side Nairobi Stima for half-season loan
15th – Tevin Opondo levels matters in the second half to cancel out a first half goal by Erick Ombija as second tier side Mt. Kenya holds City Stars to a 1-1 draw at Dagoretti High School.
21st – Mixed results posted at the Jamhuri Showground as City Stars falls 1-0 to Posta Rangers before letting go a 1-0 half time lead to tie Gor Mahia 1-1
29th – Team registers a 2-0 win over Nzoia Sugar in their Premier League opener at the Narok Stadium. It was a historic clash on many fronts as 12 players making their Premier League debut for City Stars on the day, head coach Sanjin Alagic made his top flight bow, and was the first top tier game for City Stars since 19 November 2016. Salim Abdalla was named MVP as keeper Steve Njunge – who saved a penalty – and Muki made it to the team of the week. Maloba and Agesa made the reserve team
December
4th – A lone goal in the 43rd minute by Henry Onyango proved the difference as KCB registered a 1-0 win over Nairobi City Stars in a second round Premier League game played at Kasarani's outer pitch on Friday 4th December 2020.
On the morning of the game, City Stars family went into mourning following the shock demise of long serving TM Neville Ovi Oduor Pudo
11th – Simba wa Nairobi hit visiting Bandari FC 2-0 in a third round Premier League game played at Kasarani to bounce back to winning ways. Njunge and Shitu made the team of the week
Skipper Anthony Muki Kimani, off an assist by Jimmy Bageya, and an own goal by the opposite skipper Bernard Odhiambo off a Davis Agesa cross ball, in the 60th and 68th minutes respectively, delivered the second win in three games. Njunge was named MVP
12th – On loan Rowland Makati came off the bench to score and provide assist to help Nairobi Stima salvage a 2-2 draw against promoted Soy United in Thika in an NSL season opener
17th – Nairobi City Stars posted their first draw of the season after holding hosts Bidco United 0-0 in a fourth round FKF Premier League game played at Utalii grounds. It was a third clean sheet for the team
19th – TM Pudo laid to rest in Yala, Nyanza
Full game for Ronney Kola and second half appearance for Rowland Makati as Nairobi Stima draws AP Bomet in the NSL in Bomet
21st – Amidst pomp and color, the club fetes all its players and technical bench from the past season for promoting the club. Muki named 2019/20 season MVP
23rd – City Stars forced to come from behind to tie Vihiga United 1-1 at Utalii grounds in a fifth Premier League clash. Sven Yidah's first goal, a header, for the club in the 48th minute cancelled out David Simiyu's 43rd minute header. Sven was named in the league's team of the week
28th – Team resumes training after four days of a short holiday to prepare for premier league resumption in early January