A loss and a win were the results when Simba wa Nairobi played two preseason games at Public Service Club on the afternoon of Wednesday 11 November 2020.
The first City Stars lot went down 1-0 to Premiership side KCB while the second team took down Inter base Combined, a united team from Kibera, 5-0.
In the first game, the bankers took a 23rd lead via new signing Derrick Otanga. The team protected that lead to the very end.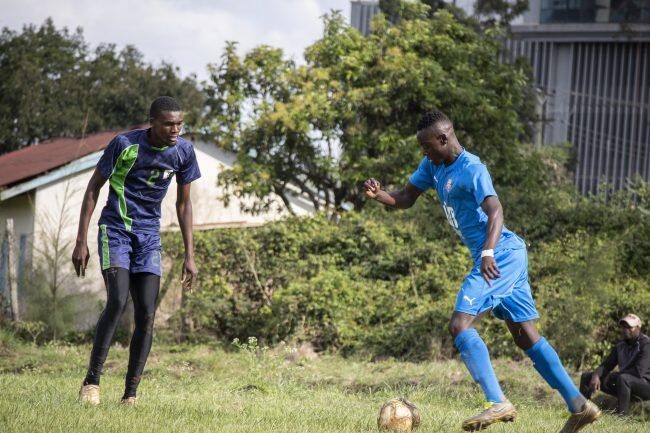 In the game that followed, Erick Ombija scored a brace as Ezekiel Odera grabbed a hat trick.
City Stars were denied an early goal in the 17th minute when second former Dickens Omondi stopped an Erick Ombija penalty earned after Odera had forced a hand ball in the box off a defender.
The miss spurred the team on as not too long after as Odera buried a brace for a 2-0 lead at half time.
Ombija atoned for his penalty miss with two goals in the next half on either side of Odera's cool finish that completed his treble.
Speaking after the game, head Coach Sanjin Alagic took home his lessons from the KCB loss;
"It was a very good friendly (KCB game). I saw wanted to see and I know know what I need to work on before the season kicks off."
City Stars 1: Steve Njunge (GK), Herit Mungai, Salim Abdallah, Kenedy Onyango, Wycliffe Otieno, Sven Yidah (Elvis Ojiambo), Peter Opiyo, Anthony Kimani, Oliver Maloba (Vincent Otieno), Rodgers Okumu, Davis Agesa
Coach: Sanjin Alagic
KCB: Gabriel Andika (GK – Daniel Odiwuor), Brian Webo, Rama Walumbe, Haroun Thomas, Nahashon Alembi, Michael Mutinda, Simon Abuko (Anthony Abwao), Brian Ochieng (Vincent Wasambo), Derick Otanga (Henry Onyango), Samuel Mwangi (Martin Ndeirtu), Victor Omondi (Ian Mutinda)
Coach: Zedekiah Zico Otieno
Out for City Stars: Elvis Ochoro – GK (Kenya U20 National duty), Ebrima Sanneh, John Kamau (injuries)
Out for KCB: Baraka Badi & David Owino (National team duty), Victor Omune, Reagan Otieno, Enock Agwanda, Dennis Odhiambo, Moses Odhiambo, Joseph Okoth (GK)
City Stars 2: Jacob Osano, Wesley Onguso (Ronney Kola), Edwid Buliba, Yusuf Mukisa Lubowa, Calvin Masawa, Elvis Ojiambo (Rowland Makati), Timothy Ouma (Jimmy Bageya), Azizi Okaka, Vincent Otieno (Charles Otieno Oduro), Erick Ombija, Ezekiel Odera
Inter Base Combined: Dickens Omondi (GK), Seth Otate, Christopher Otieno, (Austine Oduor), Collins Omondi (Cprian Trio), Abdul Kagawa (Sunday Oliseh), Shawn Odhiambo, Dackton Luseno (John Mbulimo), Bref Ochieng (Moses Mwena), Fredrick Juma, Chris Gwambo, Festus Oduor (Steve Oduor)