Two late goals by substitute Erick Ombija and a penalty by Peter Opiyo earned Nairobi City Stars a come-from-behind 2-1 win over Western Stima in Ruaraka on Tuesday 15 June 2021.
City Stars trailed the round 20 premier league game from the 39th minute when Rodgers Ouma completed a perfect counter-attack tapping home a fine pass from Baron Oketch.
COMEBACKKKKKK

NCS complete the double over W.Stima in Ruaraka.

Kumbe price ya units inakuwanga noma hivi

FULLTIME SCORES
NCS 2️⃣ – 1️⃣ WES#NCSWES #COYSWN#𝕊𝕚𝕞𝕓𝕒𝕎𝕒ℕ𝕒𝕚𝕣𝕠𝕓𝕚 pic.twitter.com/SHgC7Hc52p

— Official Nairobi City Stars Fc (@NrbCityStars) June 15, 2021
Head coach Sanjin Alagic was forced to clean his bench throwing in all possible five substitutes, four in the second half, to turn the game around. And it paid off.
Ombija fired home a ball from right-back Kevin Chumsy Okumu in the 85th minute to level the game. The goal came with belief as Simba wa Nairobi went in search of more.
With a minute to go another substitute, Herit Mungai forced a penalty from Western Stima when his shot was handled in the box.
Opiyo, standing in as captain after the exit of Anthony Muki Kimani, stepped up to score the winner, his seventh goal of the season.
Within six minutes of the quarter to 1 pm kick-off, City Stars had forced Stima to concede two corners, a throw-in. They had to clear two crosses.
In the ninth minute, Stima laid bare their game plan –  counter-attacks – as Baron Oketch broke off on the right flank only to be caught offside.
The next few minutes to the quarter-hour mark saw Simba wa Nairobi stage more raids only for an Opiyo shot off Davis Agesa's layup, two Bolton Omwenga crosses and a freekick earned by speedmaster Rodgers Okuse Okumu, taken by Kimani, all going to waste.
In the 20th minute, Okuse flew into the box only for his attempted cross,  a short one, to miss a connection from Agesa as Stima keeper Stephen Otieno reacted well to claim it.
Moments later it is Stima were on the other end and a perfect cross from the right by Vitalis Okumu landed on skipper Kenedy Agogo Otieno who, wastefully, blasted the ball to the skies off the far post.
Not too long after Stima, who were beginning to find spaces to explore, got their first corner of the game but wasted it.
Two minutes past the hour mark Opiyo gave away a dangerous freekick from a good range. Yusuf Juma hammered it goalward only for Stephen Njunge in between City Stars poles to cool it off.
With six minutes to the breather, Stima broke on a counter, got the ball to Baron on the right;  he took off for the box as City Stars stopper Salim Abdalla claimed for offside – it wasn't given.
He squared the ball past an advancing Njunge and all Rodgers Ouma had to do was tap in for the opener.
🔵39'|Goal @WesternStima_fc

Stima with a Counter attack, Barron sets up Ouma Rodgers who taps it home.

City 0-1 Stima#CityVsStima#BKPL pic.twitter.com/NzI9B7wbQv

— Betking Kenya Premier League (@Officialfkfpl) June 15, 2021
Just prior to the goal Okuse won a dangerous freekick that was driven to the box by Muki only for City Stars players to be caught offside. Unfortunately, in the process of winning the foul, Okuse suffered a mouth injury and due to bleeding had to be substituted by Oliver Maloba minutes later.
37″ | MAN TO BE REPLACED

Okuse goes down with an issue, it looks like he will not be able to continue

Maloba will replace him#𝕊𝕚𝕞𝕓𝕒𝕎𝕒ℕ𝕒𝕚𝕣𝕠𝕓𝕚

— Official Nairobi City Stars Fc (@NrbCityStars) June 15, 2021
After the Stima goal, City Stars almost canceled it out but a fierce drive by Muki, off a knockdown on Bolton's freekick, flew marginally off.
On the other half, City Stars continued with their raids only for a Salim header, and a counter by the trio of Maloba, Elvis Noor and Muki to return nil results.
To improve on the final third, coach Sanjin brought in Sven Yidah and Erick Ombija just after the hour mark in place of Muki and Agesa.
Stima too made changes less than 15 minutes later by taking out Baron for Nigerian Michael Karamor.
A short while after, Elvis, Nicholas Kipkirui who was tightly marked, and Maloba had fruitless attempts on goal in quick succession.
Both Elvis and Kipkirui soon stepped out for Herit Mungai and Ezekiel Odera, as Sanjin added more attacking punch.
And just when it looked that all the attention to the final third would amount to nothing, energetic Chumsy worked his way all up the right channel five minutes to time and whipped in a sumptuous cross that generously landed on Ombija. He fired it home to level the game at 1-1.
Less than four minutes later, Herit grabbed the ball on the left-wing, off a long cross from the right by Chumsy, and from the edge of the box, pulled the trigger that landed on the hands of Stima's stopper Joseph Mukisa to earn a penalty.
And for the fifth time this season, Opiyo stepped up and scored from the spot to hand City Stars the lead. Right after the game he was named the MVP.
⭐|Your man of the match is Peter Opiyo of @NrbCityStars #CityVsStima#BKPL pic.twitter.com/kerZOBCnz0

— Betking Kenya Premier League (@Officialfkfpl) June 15, 2021
Simba wa Nairobi hang on to that lead for the next six or so minutes of added time, to claim their first home win over Western Stima in close to eleven years, and a season double – the first-ever – over the Power men.
City Stars won the first leg in Kisumu 2-0. Interestingly, the goal scorers now are the same ones then; Ombja and Opiyo.
With the win City Stars moves two spots up from ninth to seventh – awaiting other Tuesday results – with a new tally of 26 points to push down their next opponents Homeboyz down a spot on goal difference.
Lineups
Nairobi City Stars: 23. Steve Njunge (GK), 26. Bolton Omwenga, 25. Kenedy Onyango  4. Salim Abdalla, 19. Kevin Okumu, 10. Peter Opiyo,  2. Elvis Noor Ojiambo (28. Herit Mungai Atariza-72), 30. Anthony Kimani-Captain (18. Sven Yidah-62), 11. Davis Agesa (24. Erick Ombija-62), 7. Rodgers Okumu (21. Oliver Maloba-36), 17. Nicholas Kipkirui (32. Ezekiel Odera-72)
Unused subs: 16. Jacob Osano, 8. Calvin Masawa, 22. Wycliffe Otieno, 29. Ebrima Sanneh
Not considered: 6. Ronney Kola, 14. Rowland Makati (both on loan at Nairobi Stima), 1. Elvis Ochoro (GK),  5. Wesley Onguso, 27. Azizi Okaka, 20. Timothy Noor Ouma, 15. John Kamau, 9. Vincent Otieno Okoth, 3. Charles Otieno, 12. Edwin Buliba
Coach: Sanjin Alagic
Western Stima:
Western Stima: 23. Stephen Otieno (GK),  4. Vitalis Akumu, 30. Juma Yusuf, 19. Joseph Mukisa, 6. Kennedy Owino, 13. Geoffrey Ojunga, 24. Rodgers Ouma, 8. James Ogada, 5. Clifford Omondi, 7. Baron Oketch (29. Michael Karamor-68 ), 10. Patrick Otieno-Captain (17. Richdonald Bolo-90+)
Unused subs: 18. Richard Aimo, 11. Laban Otieno, 25. Brian Steve, 12. Mohammed Mbaruku, 15. Bravo Otieno,
Match officials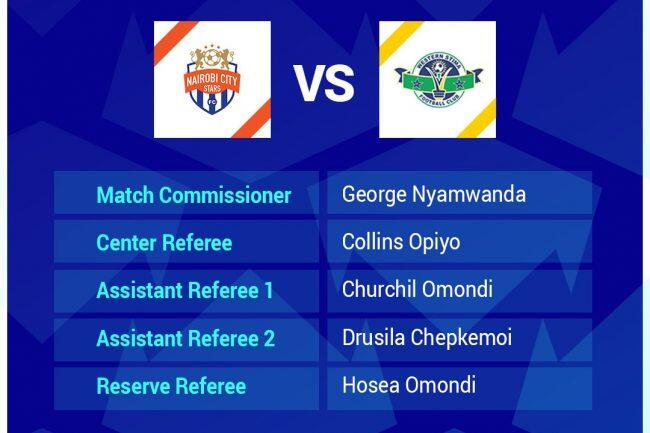 Yellow cards
Nairobi City Stars: 24. Erick Ombija (77)
Western Stima: 8. James Ogada (43)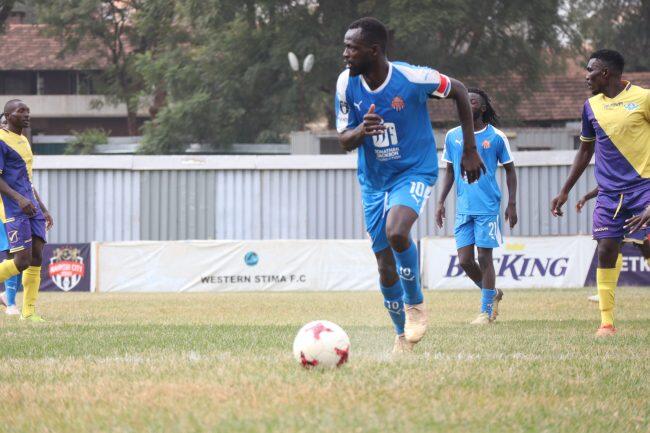 Peter Opiyo of City Stars looking for available options against Western Stima during a round 20 clash played at Ruaraka on Tue 15 Jun 2021. City Stars won 2-0